Rhinostat is a taper titration apparatus that allows RM patients to precisely control the dosage strength of their decongestant nasal spray. Rhinostat kits are free of the preservative benzylkonium chloride which is known to exacerbate RM.
The cornerstone of treating RM is always the same; patients must discontinue their use of the decongestant sprays. The benefit of precise taper titration is that it preserves normal airflow as the vasoconstrictors are withdrawn. Very few patients are capable of tolerating the restricted nasal airflow associated with conventional protocols, which is why the treatment of RM patients often fails.
The patented Rhinostat apparatus and diluent solution allows the patient to taper the dosage strength at a targeted rate of 15% per day. The weaning process typically takes from 17 to 41 days.
The difference in airflow can be measured with Rhinomanometry: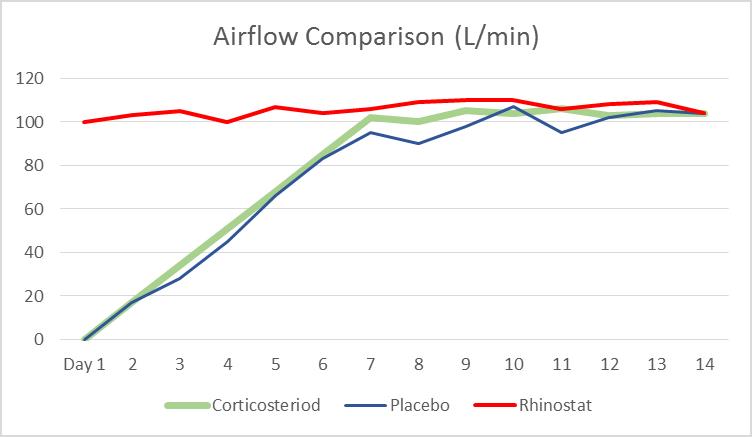 Rhinostat may be used in conjunction with intranasal or systemic steroids or as a standalone therapy.  Each Rhinostat Kit is individually formulated for each patient depending upon their current decongestant nasal spray.  Because the kits are individually formulated, physician offices typically do not maintain any inventory.
Patients should be referred directly to the Rhinostat website at www.nasalspray.com. Rhinostat collects all the information and dispatches the kit within one business day.
The cost of a Rhinostat Kit is $39.00. Patients need only one kit and Rhinostat offers a 100% money back guarantee. Rhinostat has been helping RM patients since 1999. Since that time, tens of thousands of RM patients have been comfortably weaned from their decongestant sprays using this gradual withdrawal method.
If you should have any questions, please do not hesitate to contact us.
Email: [email protected]
Tel: (877)RHINOSTAT (877)744-6678
Web: nasalspray.com